---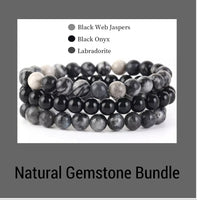 Hand Beaded Natural Gemstone Triple Bracelet  Set
Jasper is the best for stress. It is known as the "supreme nurturer", and it said to help achieve a state of calm.
The onyx is a stone that offers its bearer immensely powerful vibrations of protection, willpower, focus and strength.
Labradorite is a mystical gemstone known to enhance mental clarity and bring about transformation.
Natural stone color will vary.
Please allow 7 days processing
Available in 7", 8"
Stretch Bangle Style
Custom hand-crafted.