---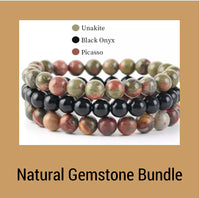 Unakite

is known as a a stone of vision, opening the third eye and useful for scrying. It is also believed to be a stone of balance, grounding the self while bringing emotions and spirituality together.
Black Onyx

is known as a powerful protection stone.
Jasper

is the best for stress. It is known as the "supreme nurturer", and it said to help achieve a state of calm.
 

Natural stone color will vary.
No metal, good for any type of skins
Please allow 7 days processing
Available in 7", 8"
Stretch Bangle Style
Custom hand-crafted.